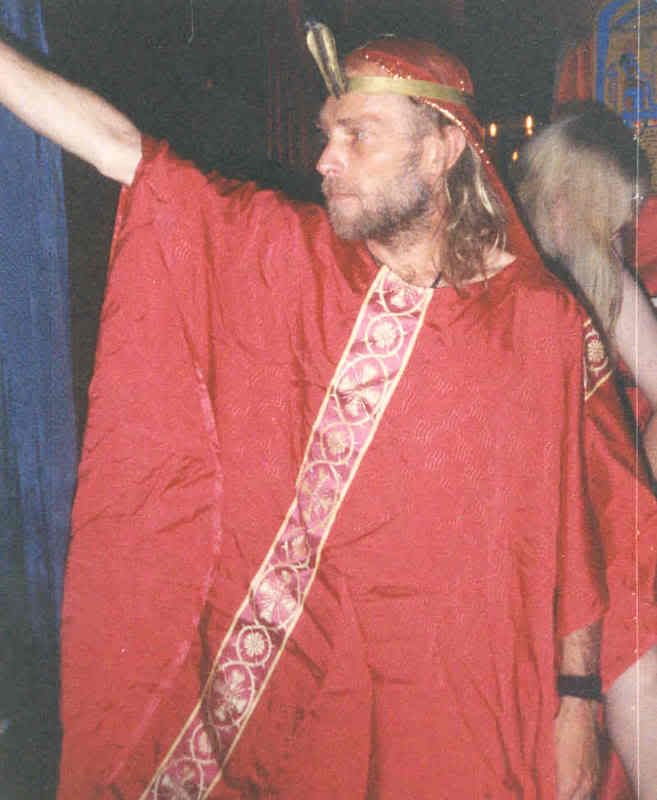 This site is in memory of my brother Chris...aka..Cris...aka...Criss Piss. Some people never die even when they pass away...my brother was one of them..I know he exists, still.
Welcome to his memory



Such youth! Such innocence! Looks really smart, too.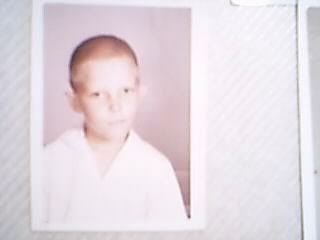 Being the new boy in school is not easy. I've no idea what he experienced. Kids can be very mean. Chris was always a leader, of at least a little following, though. And thought of as someone who would know the answer to your questions.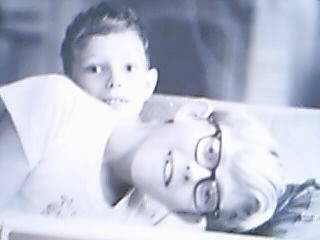 And he read so much he needed glasses..tomes! And already with the hand drawn t-shirts! His starburst man!! I loved that guy!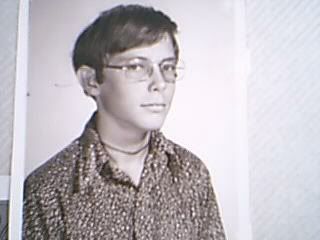 As the 70's came, his innocence faded and he began to experience other social aspects of life.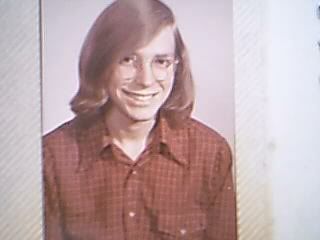 When your father is a Col. in the Army...AND...head of the Haircut Policy for the Army stationed at the Pentagon...this is not exactly the haircut you desire on your oldest son. SIR! NO SIR! The fact that this didnt become an issue at home that I recall, shows what cool parents we had (He may have a different story to recall on this, I don't know).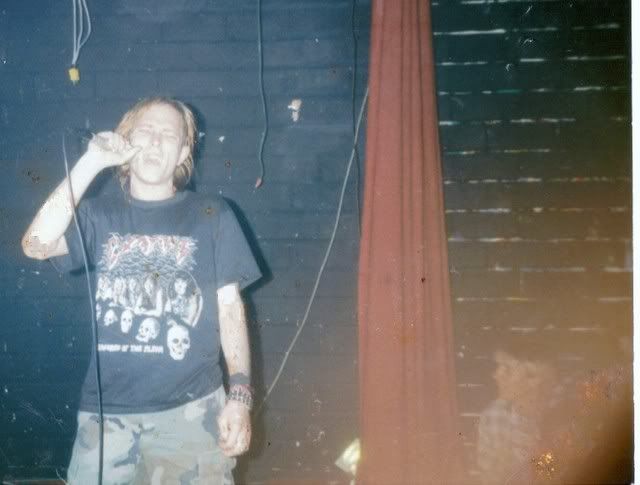 As I said, Cris experienced othe social aspects. and his soul was drawn to those it was drawn to. Worthy people unseen by the bias eye. but his eye was not fooled. Those who met him know what I'm saying.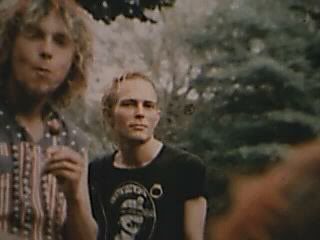 A decade ago, Cris passed on October 26th with "remains" charred on Halloween. Befitting I think considering who he was and how he lived. His way. The way which allowed those cast off of society to find a friend. A manner that surged with complete individuality beyond what most who claim to be could fathom. Attracted to the unusual, offbeat, bizarre, different, unique, discarded, disowned. That list goes on and on and on. As did his imagination and creativity. His mind never resting. To the last breath he took, his mind never rested. Always sought more knowledge. More gnosis. More insight. More understanding. More. You may think this a bias view of a man I've admired my entire life, me being his "baby" sister and all; but the proof is everywhere. Outside my family. Friends whom have yet to forget him. Who look our family up to tell his mother how much an influence he had in their life. Friends from decades passed. His wake told much. Children, family, and masses of friends from all over the USA. He was my brother. Is my brother. His life lives deep in my heart, his energy surges in my and in many others' souls. Because I will never forget him, nor will many others, I dedicate this blog to him. A place those who miss him, respect him, admire him, desire to touch him just once more, may come to pay homage. I will come here often to do so myself, and encourage and invite any other who knew and loved him to do the same. In this homage of mine to my brother, you will find what I can of his. Art, pictures, (if I'm lucky enough to find some-feel free to post any you have!) and writings. You will also find stories from me, my family I've recited, and many poems I've written while he was sick and dying. Please be warned ahead of time, these poems can be quite difficult to read if you are sensitive. But they are of Chris, for me because of him. My feelings, love and adoration of him. I hope you visit often and share your own stories and respect with me.
So as my first homage to him, I post as the prologue to this, one of my poems, an acrostic his wife Jeanne, told me just recently, he often wrote acrostics. I was pleased to find this out, it made this poem all the more special to me. I didn't know he was into that style of writing. So for him:
Death of Cris
1996
D
earest sleeping brother
E
asing into the other side
A
ttaining all answers
T
o your questions of life
H
aving more knowledge
O
f
F
aith no longer needed.
C
ris u
r
another now.
I
know you exist,
S
till.
so tomorrow is a decade. He almost had 4. Only 4. Short, fast, but very intense decades. decades that I know touched so many souls to their cores. Recently a friend of his from the mid 70s contacted our family. Having heard of both my father's and Cris' passings. Over 30 years later and Cris is still leaving an impact. Once you have met Cris, you don't forget him. He leaves a mark. His mark. Not many people can do that. Cris does. Still. I miss him terribly, even today, and the time that has passed since his passing, seems to have flown here. A decade already.
He had friends that, if once we moved, we moved again to someplace they were, they were sure to look him up. As said before, even decades later.
So today is a day of decades. Decades before his death, and a decade since. And he is still alive in so many peoples minds and souls. He lives forever now in mine. I proudly wear his ankh, the only pendant he wore that I could claim, and it reminds me...life..eternal..he lives..still.
So here I am, letting you and the world know, I love you, Chris, I always will.
My father was in Viet Nam, and they were having a Christmans present drive for the vietnamese children near my fathers area of employment. We were being inerviewed for the local paper in Green Bay, Wi. for this drive. I recall our hallway full of presents, boxes and boxes! It was quite the success.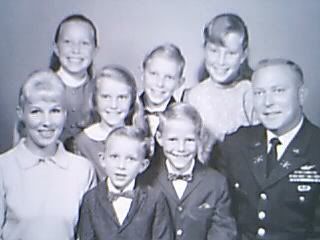 Not very often, would we get formal family pictures. My father's hobby was photography so we had plenty of us at home. This one is taken when we lived in Ft. Levenworth, Ks., I believe.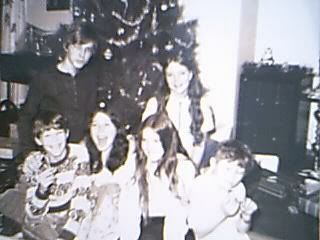 The few times (twice) that my father served in Viet Nam, we moved to their home state and area, Green Bay, Wi. This is a picture my father took for christmas from the late 60's or very early 70's. We were a big clan. An Army almost within ourselves.
Mid 70's in Monterey, Ca. (Presidio of Monterey)
While Cris was enduring his cancer, I was 2 hours north going to college. Gods work in mysterious ways! I was taking a creative writing poetry class. So obviously my work was all encompassing what my life was, which at this time, was Cris. So many poems were written regarding this time. I now submit them here, to be with him, and his friends and loved ones. They are some my best work I've ever done and they mean everything to me. So now I share with those who love Cris. Please understand, when I was writing these, He was still alive, but definitely dying, and I was enduring watching him die...my brother....Cris..the one I admired most! The only thing I will say, though, is when I post this, after all the toiling to make each stanza correct, each word placed where it should be, blogger puts it in a wrap or something so they are not set up as I have them.
Death Grip

:
For My Brother Cris
I hugged a skeleton, once my brother
lightly -- carefully
Afraid of what I might feel
Trying not to face
That these bones are him.
Sunken sockets shadowed by death
ashen -- empty
At times lost in morphine dreams
Or from mesmerizing pain
Or trying to fool the reaper.
I know death sits in Cris' lungs
pressing -- grabbing
Cris' voice now weakened whispers
His words fighting to get out
I am watching him slowly lose.
------------------------------------------------
Watching Death

:
For Cris
I know who you are.
I have felt your thick breath
Outside my brother's door.
I see you.
You sit in his mouth
Holding it agape.
I am waiting for your move
But not with the pain
And anguish you cause him.
You are patient
You are death
You are here for my brother.
Please
Go away
Without him.
When one is surrounded by youth and their eyes are alive and they don't stop their incessant chatter and goings on over nothing, and the world won't stop when you think it should, well, this comes to you, or to me:
Frivolous Struggles
:
Frivolous poems
Raised on these pages
Trying so hard
To stop my rages
That come from those
I see around me
With petty problems
They're trying to flee
Like what to wear
Or wanting new shoes
Their date walking out
Or bills overdue
While life and death
Stare into my eyes
I tell you that
It's no surprise
Those mounds of dust
They claim to endure
Are petty problems
Of this I am sure
Just watch a loved one
Fade away
With sunken eyes
And skin of grey
Whose limbs once held
His frame with ease
Before he caught
This fatal disease
First watch your
Brother slowly decay
Then I am sure
That you will say
Those problems that
You find insurmountable
In the end
Are unaccountable
For such grief
You claim they cause
Once you stop
And give them pause
And ponder on
What you create
Standing before
Heaven's gate
Were nothing more
Than grains of sand
Turned into mountains
Through your own hands.
------------------------------------------------
Death Why Must I Ponder You?
:
Death why must I ponder you?
I have lived so long without knowing you
But now when my life is so full
Of frustrations and demands
You tap me on the shoulder.
Death why must I ponder you?
Why with the one I have admired
And followed for so long
And why in such an ugly way
Turning minutes into painful days.
Death why must I ponder you?
Seeing the Cris I knew
With his quick, ever-seeking mind
Slipping into his own
Glassy eyed world.
Death why must I ponder you?
Learning of your ways of seeping into his lungs
On wisps of smoke
Slowly- patiently growing
To your unbeatable mass.
Death why must I ponder you?
Hearing gurgles of phlegm
Fill his lungs
Ever rattling- ever sinking
Forcing him to drown from within.
Death why must I ponder you?
Watching you slowly work
Never knowing if today or tomorrow
You will come for the last time
Taking my brother with you.
Death why must I ponder you?
--------------------------------------------------
Walking Skeleton
:
For Cris
Bones
Alive
At times
With eyes
Staring
Blankly
Fat
Muscle
All gone
Walking skeleton
Cris
Mindless
Forcing thoughts
Forcing breaths for life.
Eyes
Open
Hollow sockets
Holding him
Within
Captured
Fleeing pain
Fleeing cancer
Fleeing death.
I also took a psychology class which called for keeping a journal, so I wrote in poetry form because of getting into that mode at that time, so more came after his death. The above poems were begun before his death and had to have rewrites for the class, 3 of them, so I often had to face them again, trying to grab more insight into my journey of Cris' death. But my journal was simply for me, and in it came more of my sorrow or search for comfort and strength during this time.
P
r
i
s
m
s
:
Today I surround myself
with my prisms.
Maybe I will make beautiful
Rainbows.
I must keep them near
Remembering
Their colors
Their intensity
Their light.
When you peek into darkness
It is good to know
The brilliance of light is
Nearby.
Today I surround myself
With my prisms.
---------------------------------------------------
Flashbacks
:
To me
I saw--
see--
sleepwalk over
Flashbacks
live in themselves
mentally
and turn to maintain
to recognize the real
Yes
People do
It serves more.
----------------------------------------------------
Untitled
:
The heavens cried with me
washing my soul
with its much needed warmth
Pouring the weight of my sadness away.
Sharing my mourning
Openly- uninhibitedly and deeply.
The clouds followed me home
On my bidding
To stay near with her soothing embrace
Ready to freely release my pain
Nature knew of my loss
Nature happily welcomed him into her realm.
The heavens cried with me
Opening her comforting bosoms to me
Engulfing me in her compassion
Her wisdom and acceptance
Nurturing my soul with her cleansing tears.
And sometimes I simply tried to express how I admired him so...
Untitled
:
With glasses on your nose by ten
Reading books beyond your years
Creating artwork of one much older
Perhaps you always have been.
Leading lower court in games of war
Exploring the depths of Kansas caves
Always seeking to conquer the unknown
Ready to move onto the next new place.
Moving from state to state as we did
You gravitated towards the outcasts
Becoming fascinated with the bizarre
Another group for you to lead.
I've never known you to conform
Nor follow or simply give in
You've always set your own pace
With a few clamoring behind you.
It's with this view I've admired you. Impressed with your knowledge and talent.
So here I've come to share Cris with you, and touch Cris again, and hope to have you share Cris with me. And I'll leave this up a very long time, so many or any can come when they want. Share what they want. I'm hoping many out there have some of HIS work, his words, his art, unfortunately I'm not one of those who does. And perhaps someday I will get some pictures scanned of him, perhaps. But the images are already and he is still, so, please, pay homage with me...and celebrate Cris.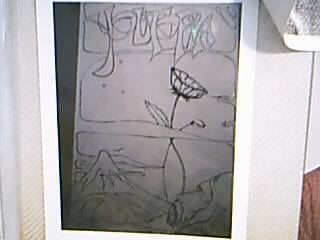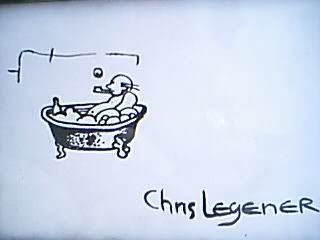 Hand made Circle Kaos T from and by Cris while he lived in Houston, Tx.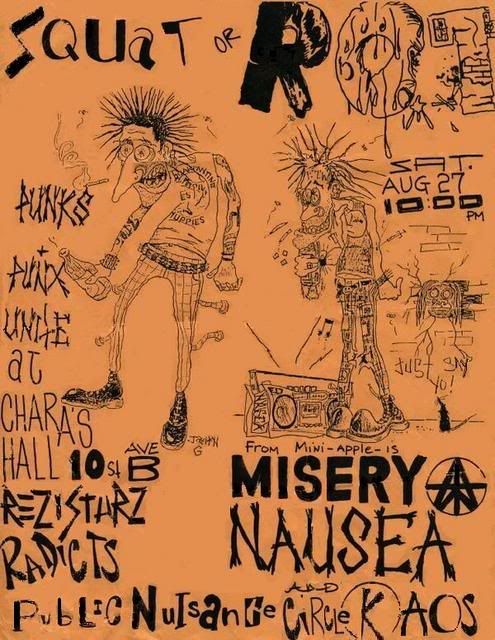 Circle Kaos flier for show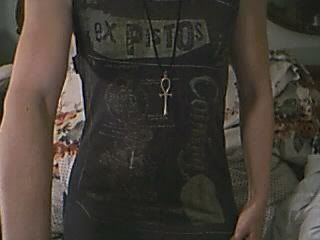 Ex Pistos t-shirt he gave me when he lived in Austin, Tx. (I still have the brown priest shirt he gave me from a dumpster dive, too.)
There was a time, the time I was in college, visiting him as he was sick, that he had given me two priest shirts from a 'score' he found in a dumpster behind a catholic church. The school I was attending was in the southern baptist bible belt full of 'good old boys'. Very conservative, Texas A&M. Periodically I would don a priest shirt, put a collar in, and wear it to school. Oh the looks I would get! To them it seemed quite sacrilegious! Made me smile. Made me think of Cris, and also made me laugh at their narrow mindedness and fear of stepping out of their boxes. Often I would do it simply to make them stop...for most were living their lives in automatic. Thoughtless, and I wanted to encourage them to think again. I"m sure it didn't work. Unfortunately, at one point, I wore this priest outfit when the "Bat" (the school paper, Battalion) was having a debate in the editors section as to whether the catholic church should allow women to be priests. I was disappointed in my timing when I discovered this because I knew people would assume I was making a statement to that. If I had made a statement to that, it would have been, NO! Quit changing your tenets and doctrines! That's what turned me from that church to begin with! So yes, I had ways, even while he lived, to pay homage to Cris, and with his help, supplying me with my props, I did so on occasions.
ALL HALLOW'S EVE


It's Halloween. The day he was cremated. I've been thinking about that all day. For his memorial service, Jeanne found a glass box to put his ashes in. I borrowed some swarovski crystals, small and many different colors, to mix in his ashes. I still see her and me standing in front of that glass box, placing these crystals in. Standing side by side. Such a night! Such a presentation! What a room! large, with many seats, dark, open. Filled with people I had never seen. My parents were there. My children were there. My father made a speech about him that blew me away! He was a gemologist at the time, and he related special gems' qualities to Cris. I never knew my father to think of Cris in such a manner! It so hit my heart! My father! The Col.!! Head of the hair-cut policy for the Army! With such beautiful words to speak of for his oldest son. And my oldest daughter spoke. And Cris's son Alex cried. And my daughter Kasi said some wise touching things, and mentioned children crying, his son, missing him. Others spoke. People from Austin. Perhaps from California or New York. I didn't know them. But that's not surprising. And I listened as they each expressed how meaningful Cris had been to them in their lives. How he had saved them in one manner or another. How he had seen in them something no one else had ever bothered to see. How special he was to them. How good he was. And most, how creative and intelligent he was. And his wit! I like to think a family trait, but we each had our own style of it. Cris's may have been the 'underground' version, if I may say.
And the glass box remains in my mind, with the crystals sparkling here and there, subtly. I have a wooden round container now, with a bit for me to forever have of him. I thank Jeanne so much for that! She has always been so thoughtful in that manner. It is because of her that I have Cris's ankh and tarot cards. They mean everything to me. (Thank you, yet again, Jeanne! I love you!)
So today was a day I recalled his memorial service, although it was not held on Halloween. To me, Cris passed on Halloween, because to me, that was the most appropriate time for him to...all hallow's eve. I was pleased he was cremated on that day. As I've said, I thought it fitting.
I know you exist
Still
Ashes to ashes...dust to dust.
Nature welcomed him into her realm.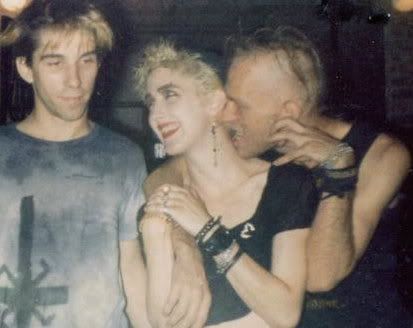 Cheryl
Of
Circle
K
a
o
s
said...
"
I MET CHRIS WHEN I WENT TO AUDITION FOR THE BAND 'CIRCLE KAOS'!!
I HAD PLAYED DRUMS IN SOME BANDS & IMPULSE THE MONTH BEFORE I HAD BOUGHT A BASS & AMP AND DECIDED TO SWITCH INSTRUMENTS & PLAY IN A BAND. I HAD PLAYED BASS ALONG WITH STUFF LIKE "SMOKE ON THE WATER" AND ALOT OF ZEPPELIN,RUNAWAYS, BLACK SABBATH, HMMM... 70'S MUSIC When I was A Teenager...BUT REALLY WAS A DRUMMER. I Recognised Chris & realized I had met him BEFORE when Fate had brought him into the restaurant 'The Omelettry West' where I Was a Waitress. HE CAME IN AND ASKED FOR A ICE TEA (only) and I gave him my employee meal. So, when I went in for the audition... We remembered each Other...And felt like we had bonded. I learned 12 songs that night and Chris had more songs all in a large notebook crammed full of an assortment of things he had found on the street walking over to Band practice. A bird feather and a silver medalion was some of the prizes he had found and he pulled out a chain and put the medalian which read "MONSTERS OF ROCK" on it and gave it to me. Crum the guitar player wasn't really happy with me. But, Chris and Charles said..."She'll be great!!!" and very enthusiasicially Chris said "She'll be a Monster Of Rock!"...So Crum said "We'll see ya next practice!" And, that's how my start in the infamous punk rock career began. LOL...He is the only person in my whole life that called me a Genius. A Compliment that meant so much coming from someone as smart as Chris!!!
Funny, I always thought Chris was my best friend...but, after living with him as a bandmate, and touring...I realized He made "Everyone" feel that way!
And, After he met jEANNE...Chris & I became even closer because being the Only Girl in the Band... He was always talking to me for Love advice.
And in trade I learned about things that only a World Traveler Sage would know. He was an expert on almost every topic. He had been to Russian and other exotic places, and was a life teacher to so many.
Those of you who ever met him know that he was an original.
(unlike the rest of us). He lived by his own rules.
He always worked odd jobs, didn't always have a lot of money yet could ALWAYS come up
with money in a pinch. Besides He Was Rich in life experiences AND Shared what he had freely. He was one of the happiest, most present people I've ever met. If you go by what RICHES people bring to the table, nobody ever came close to Chris. I got sick once and could not work, Chris Found out and INSISTED I bring my little daughter and myself to the Taco Stand that He worked at on the Drag. To this day I can still see Him Piling on The Steak, Avocado, Beans, Sour Cream into the Largest Burritto I've ever seen... Knowing It Was Probably Our Only Real Dinner.
He would Hand Me a Little Money to Go across the Street To Get My Daughter a Smoothie Or Shake... to Go With our Daily Free Meals. We ate for Free until I was back on my Feet again.
He never thought twice about helping Me & my Children. And, Weeks later I found out Chris Had been "Let Go" because of his generousity. Instead Of being without jobs...We (Circle Kaos) went on tour And Moved To New York City. I found an ritzy Apartment over in the Soho Area. He and Crum stayed in Squats at first, Then Made a groovy pad and Living for Free on the Roof Of My Building Complete with Potted Plants, Beds, Lights, Couch and Tables...all while I paid the exorbitant Rental Price For the Flat In The Building! Ha ha
Chris Helped form fundraiser's with great bands like Agnostic Front, Reagan Youth, Warzone, Nausea, Our Band Circle Kaos, etc. To raise Monies to Get Windows installed in the Squats B4 Winter. Steven Spielburg was filming 'Batteries Not Included' and asked Us to Leave the street. Chris told them that We were Having a Punk Rock Show and Couldn't Be Bought. Spielburg offered 2,000.00 dollars and 3 van loads full Of Beer and Pizza for the Show to Be Moved To Thompkins Square Park Which We agreed to! The Windows Got put in and A real fun Party happened!!! Chris was Also made an "Extra" In Spielberg's Movie 'Batteries Not Included'... and You can see Chris in it as Well As A Lot Of Our New York Friend's.
Another good Chris story...While Living In N.Y.C, our Band Circle Kaos Practised 2 X Week at A Great Studio That Was All Set Up W/ Equiptment Where all you'd have To Do is Bring your Guitar's and Drum Stick's. It was quite a walk though and we didn't Own A Car (Who Did?). Chris, Charles and Crum Would Walk Up To The Vintage Clothing Store I worked At (And pick me up ha) and We Would All Walk Over To Practice which was 5.00 Dollars a Piece. I would Ask Everybody If They Had their Cash and Chris Would NEVER have His. I would start freaking Out and Charles Would Tell Me To Calm Down...all While Chris walked a good 15 feet Behind The Rest Of Us Kicking over garbage and Looking Down At his Feet. He was Picking Up Cans For Christ's Sake! I Yelled Out To him: "Chris...This Is No F@ckin' Time For Recycleing !!" He just gave Me this little Smirk. Right Before We made it To The Studio Chris Goes Into a Corner Grocery Convenient Store and He walked Out With Soda and Chips For The Whole band and a Banana Flip for Me! He would Smile as He Paid his Five Dollars For The Studio Band Practice! On the Way Back, I saw A Sign In The Store Window That Read: " Recycle! 25 Cents Per Can!" OMG... That was SOooo Funny! He had the ability to make The System Work For Him. In N.Y.C. He and Crum Got A Job Handing Out & Tacking Up Flyer's...So Naturally He Incorporated Our Band Flyers Copies For Free and Tacking them Out And Handing them Out With the Business Flyers He was getting Paid For! Free advertizing :-)
He had this ability to find humor in the seemingly mundane world around us. He could turn me onto some totally random tv show (He loved Kung Fu and Sunday Church Sermons!!) He could start a conversation with someone I would have never made eye contact with only to find out they were a total gem.
Chris noticed and appreciated the world around him and I was often the fortunate beneficiary.
I used to tease Chris about the wayward odd souls he often adopted as friends. I only just now have realized I was the most wayward of the bunch and probably his biggest project. I was fortunate to have spent so much time with him in his band touring, moving to New York City,Starting the Sinister Sister's W/ Jeanne as my Bass player, Touring with Ex Pisto's, moving with Jeanne and Chris to California. And, finally staying close with Him & Jeanne and family after they got home to Texas, where we found out he was sick.
He leaves a collage of precious memories in my mind that No One Else on the whole Planet could have given me.
I am comforted that he left such a legacy in his Family...his wife Jeanne, and his children Alex and Becky. His Mom Marianne, Dad Richard, and his other brothers Tom, & Jim and His sisters Barbara, Suzie, and Carole. PLus Thousands Of Friends...

Still...I've always thought that Chris lived life the way an Immortal would.
Because after all, He will always be with us....and He didn't have anywhere else he'd rather be
"
Those who knew Cris in his later years, knew how how he loved to debate christianity. Loved to fluster 'believers' with their own book. He called christian talks shows to the point of being recognized and screened. I recall visiting him once while he and a friend were producing a free tv show in Austin. I watched them tape it in some dingy, no-place room. I don't recall exactly any more, but it seems I helped him tape it. He was so enthusiatsic. Had so much vim towards this "project" which became a favorite past-time.
Once he typed up and handed out brochures which he gladly gave me a handful of. I left one on a seat in a classroom at Texas A&M. I had wanted to tapes "hosts" (catholic wafers representing the body of christ) onto them and hand them out during a week when many "evangelists" were preaching. Unfortunately I never did. But at least I placed 1 in a chair in a room. I wonder to this day if anyone read it, and what they thought of it. I still have some. So here I will retype it for you all to enjoy, as he would be pleased to have you do. If you listen carefully, those who knew him, you will hear him with his biting sarcasm and wit. With his vehement inflections, and see his smirk as you read it. I know I do!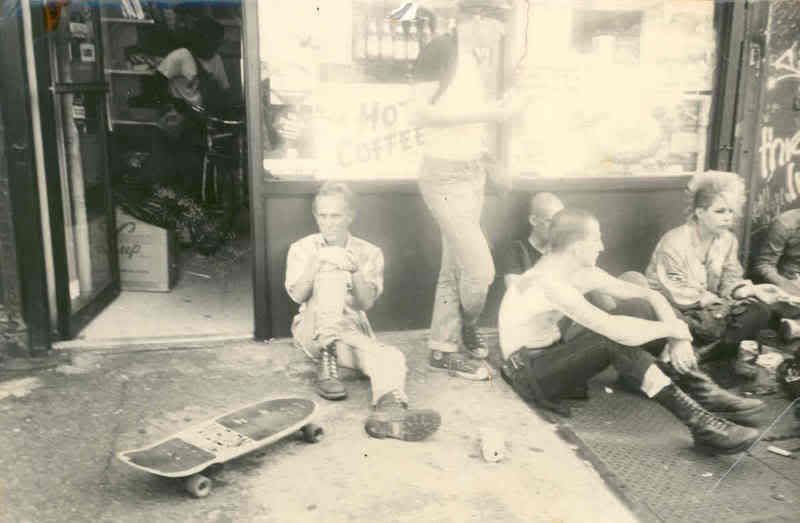 IS YOUR PREACHER A TRUE CHRISTIAN?
Sooner or later, every Christian must ask himself this important question: "Is my preather a True Christian?"
In these days of Get-Rich-Quick-Tele-Evangelism & Mega-Buck Christian Theme-Parks, how can a decent Christian tell if his or her pastor is an honest Bible-believing Man of God, or a cheap, lecherous huckster, out to cash in on the "Jesus Racket" for the Power, Sex & $$$$$??? It seems like everyday brings fresh revelations of some formerly respectable Ministry destroyed by scandal, brought low by corrruption & Sexual Immorality & yet the preachor or pastor is the one person responsible for the welfare of that most precdious treasure that you possess: Your Immoral Soul! That's why it's vitally important for you to be absolutely sure that your preacher is a True Christian. Of course,k there's only ONE TEST of a True Christian Pastor, & that is: Does he follow the Word of the Holy Bible or not? It's that simple.
A True Christian Pastor will be scrupulously obedient to the Holy Bible: the LITERARY WORD of GOD! I am continually amazed at the IGNORANCE of some of these contemporary Preachers who rave on & on about the Bible when they have obviously never even read the very first page! I don't know what they're following, but it's not GOD, & it's NOT the Bible! Woe unto these false sheperds! The Bible says it would be "better if they had never been born". These False Prophets are leadin millions astray. But you know, the Truth is there, right in your own Bible! Get it out right now & turn to page one. In Genesis, Chapter ONe, Verse Eleven we read this Verse:
"& GOD said, let the earth bring forth Grass, The HERB yielding seed....& it was so."
& then in Verse 12:
"& the earth brought forth GRASS & HERB yielding seed after his kind.....& it was so."
& Verse 13:
"& the evening & the morning were the Third Day."
& there it was! in 3 DAYS GOD created the entire Earth & covered it with luxurian Herbs & not just regular Grass, friends, GOOD GRASS. Good HERB! & GOD saw that it was Very Good. & it must have been good, because the very next day, ALMIGHTY GOD created teh SUN, THE MOON, & THE STARS!!! The entire rest of the Whole UNIVERSE!!!
(Gen 1.14-19)
"& GOD said, let there be lights in the firmament of the heaven to divide the day from the night, & let them be for signs, & for seasons, & for days & years".
"& GOD made two great lights; the greater to rule the day, & the lesser light to rule the night. He made the stars also."
"& the evening & the morning were the FOURTH DAY..."
Now Test your Pastor. Ask him this Question: "Which did ALMIGHTY GOD create first, MARIJUANA or the SUN?" I'm willing to BET he don't know the answer! But GOD'S Ways are HIGHER than the ways of Man, & if He wanted to create the Light First & the Sun later, maybe its just His Way. We're not to question His Will, simply obey.
& then He made Man, & gave it all to him, the whole earth & every single plant & Herv on it!
(Gen 1:29)
"& GOD said Behold! I have given you EVERY HERB bearing seed, which is upon the face of the earth...."
& in Chapter 2, GOD made the Garden of Eden, in modern-day Iraaq, & He made ADAM & put him in this garden as a gardener.
(Gen 2:15)
"& THE LORD took the man, & put him into the garden of Eden to dress it & tokeep it."
If you will just simply take the time to GET INTO the Word of GOD, not just read The Bible, but get into the righ MOOD first, I think you will be able to understand. I think you'll SEE the LIGHT. My careful reading of Genesis says to me that ALMIGHTY GOD was prmarily interested in His hemp crop. He made the earth first & covered it with weed. Then the next day He went on to create the rest of the Universe. I look at this World around me with it's PlatyPusses, Punk-Rockers & Policiticians & it becomes OBVIOUS to me that ALMIGHTY GOD was STONED-OUT-OF-HIS-MIND when He Created it. & the next thing He does is make ADAM for a gardener! So now God don't do nothin' but "stroll around the garden". After a while He remembers to make a girlfriend for the gardener, & the way He goes about it & the "Woman" He created are FURTHER EVIDENCE of a STONED CREATION!!!
Well no wonder your Pastor don't know diddly-squat about The Bible when he thinks that pot is the "Devil's Weed" & that the GOOD HERB that GOD HIMSELF Created before the Stars Shone is some kind of Bad EVIL DRUG!!
No wonder his marriage is breaking up with drunkenness & fornication no wonder the Devil lures him with all the delights of Sin & the Flesh! "Cuz he's not in the World! He might be in the book, but he's not in the SPIRIT! The Bible says the MOSES saw GOD in a Burning Bush. Now just what kind of a Bush do you think that was? It wasn't a George Bush!
The Bible says that MOSES saw GOD in a pillar of smoke! Now just what do you think old Moses was SMOKIN'?
Friends, the next time your Pastor starts asking you for money, or goin' on about "Morality", pass him a joint. If he won't "LIGHT UP" with you, he's NOT a True Christian. It's not enough to just HEAR God's Word. You must also OBEY. Don't trust your Christian walk to a "Wolf in Sheep's Clothing". If your Pastor supports the "War on Drugs" hysteria, "JUST SAY NO" to hypocritical Preachers. Don't try to convert him, just shake the dust off & move on. The Lord will lead you to a new SPIRIT FILLED Church, where you can share the Word of God with other True Christians!
We hope that this humble tract has been of service in your walk with Christ, & that you will be moved to share it with others. Please copy this & distribute it freely. Never has this message be SO VITALLY NEEDED in the World! & won't you please help us to find new ways to get The Word to more people? I'm sure you want to help in this Great Work!
So send $5 or whatever the spirit moves you to:
Billy Jonah's The Fire of God Is In Me Ministry,
588 63rd Street, Suite XP, Oakland CA 94609.
(For you who knew us when we were on Stonewall Jackson Lane in Louisville, Kentucky, we heard the call to move to a place where we felt people most needed The Word.)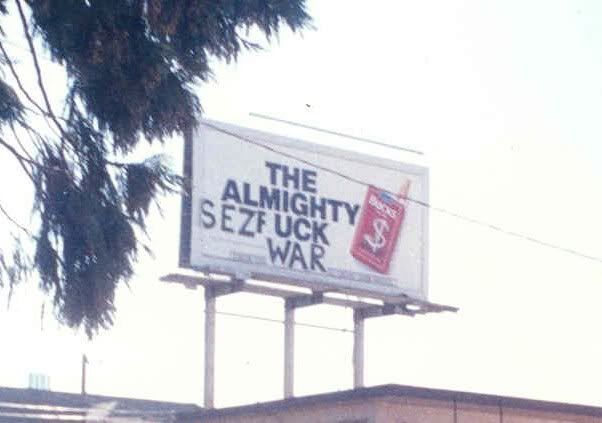 and yet another of his writings ( I can hear the ranting!):
INVASION OF THE SPACE MONGERS

O, YE MEN OF EARTH ARISE!!!

PEOPLE OF THE PLANET EARTH!

Listen to me, for you and I are brothers. But there are Others... This is not for Them. These be Perilous Times. For too long have We sat back & watched complacently as Hordes of Patently UnDocumented Aliens have descended upon Us, Invading every Sphere of our lives. Ugly, Extra-Terrestrial ABOMINATIONS cavort before us in the leading Roles of Big-Budget Hollywood Movies & Star in their own television series (ALF). Robots, computers & aliens are portrayed as "Cute" or Lovable. More than one Disgusting motion picture has even depicted sex with Extra-Terrestrials as something "desirable". Respectable Newspapers document the relentless chain of atrocities perpetrated routinely by these Other-Worldly Non-HuMans. Headlines like these, taken from a single isssue of The National Examiner:


'BIZARRE HOAX FROM SPACE IMPREGNATES MAN'
'I GOT AIDS FROM AN ALIEN'
'EVIL E.T. TERRORIZES CAMPERS'
'UGLY SPACE MONSTER RAPES NONE WITH IMAGINARY PHALLUS'

Congress, the Police, everyone is apparently powerless against these rude, pushy, inconsiderate & Un-invited guests of a planet which must always belong to US - The People of The Planet Earth. Are we so WEAK, so BLINDED, that We must Surrender without a murmur? Are we so BAMBOOZELED & BEDAZZLED BY ADVANCED TECH THAT WE WILL SELL OUT OUR PLANETARY BIRTHRIGHT FOR A MESS OF POTTAGE & TRADE GOODS? I say, "NO WAY!" EARTHMAN ARISE!!! EARTH IS FOR EARTHLINGS!!! I say, "EARTH FIRST!!!" WE MUST UNITE! We've all seen these "things" on the street, on TV, & in the movies. They are NOT "CUTE"...E.T. is not "cute". E.T. is UGLY. These creatures take advantage of our GOD-GIVEN mammalian instincts & manipulate by emitting a powerful "cuteness field". Pee-Wee Herman is Not of Earth...

Friends, if only it were only the Media...Friends, there's a War Going On Right Now for the mineral rights to the Nickel-Iron Core thousands of miles beneath your feet...Corruption in the Highest Places...There's been disturbing hints lately the space shuttle explosion STAR WARS WON'T STOP THEM IT'S TOO LATE FOR THAT THERE WILL BE HAND-TO-HAND COMBAT THERE WILL BE SLAVERY & WORSE...NEW JERSEY IS ONLY A PROTO-TYPE. Have you notices that NO PRESIDENT'S WIFE for the last THIRTEEN YEARS has escaped a MASTECTOMY???
That's just a sample of the Horrible Tribute THEY exact, like the cattle mutilations & the National "URINE TESTING" Program. THEY NEED OUR PEE!!! Under the guise of hypocritical "DRUG TESTS" the U.S.Govt collects the Precious Fluids from millions of EARTH PEOPLE a year. Enormous Quantities of Urine are involved...Friends, what is NEXT? Will they SubPeona our LIVERS??? They want our DNA The CLONES are here my friends watch your nabors many of them are Clones or Not Of This World...Clergymen, Politicians, Rock-Stars Micheal Jackson David Bowie Jesse Jackson...(clone) Jerry Falwell...the list would Shock you. Fred MacMurray, Ed McMahon... FRIENDS I KNOW IT SOUNDS HARD & THESE INVADERS ARE SLICK AS SNOT BUT I KNOW THAT WE CAN WIN!!! I'M CALLING ON YOU, THE PEOPLE OF PLANET EARTH TO UNITE WITH ME & DRIVE THESE UGLY ABOMINATIONS OFF THIS PLANET ONCE & FOR ALL. EARTH HAS BEEN A DOORMAT FOR IMPERIALISTIC EXTRAS FOR TOO LONG!!! SAY NO WAY! TO THESE SLIMY SPACE EXPLOITERS & THEIR CLAMMY COMPUTERIZED PALS. FRIENDS, I don't care if you are a Negro, a Jew, or a
China-Man long as you got 2 eyes 2 arms 2 legs and 1 head. I don't care if you are BLACK, WHITE, RED, BROWN or YELLOW long as you ain't BLUEGREENPURPLE or POLKA-DOT. Are you gonna wait til YOUR daughter brings home some ARCTURAN ASPARAGUS or some SHELLFISH-LOOKIN THING from SPACE & announces that she is PREGNANT??? Are you gonna wait til your SONS get rounded up for some phony "HIGH PHRONTIER" Space Colonization Conscription??? A one-way ticket to McPeople Burgers... Preliminary TerraForming Tests in places like L.A. and New Jersey indicated conditions on Earth can be adapted to suitable enviroments for Other, Wealthier LifeForms...I know it sounds hopeless & It Looks Grim but I BELIEVE THAT WE CAN WIN!!! BUT ONLY IF WE ARE WILLING TO PAY THE PRICE!!! OUR FAMOUS FORBEAR AND
FOUNDING FATHER ONCE SAID: "INTERNAL VIGILANTES ARE THE PRICE OF FREEDOM" & I believe that's true. Friends, watch your Nabors. REPORT ANY UNUSUAL BEHAVIOR TO US, INTNATL WORLD HDQTRS. Be sure to enclose a "BATTLE CONTRIBUTION DONATION" with your report. DO NOT send your report to the POLICE OR ANY ARM OF THE FEDERAL GOVT. WE ARE IN THIS FIGHT ALONE & there are TRAITORS in HIGH PLACES...Make No Mistake About It my friend THIS IS WAR...TRUST NO ONE!!! Don't give blood. Buy powdered urine. Stay away from micro-waves & people with pacemakers or "implants" the police & postal workers are not to be TRUSTED!!! NOT ALL "TWINS" ARE NATURAL...THE GOVTS OF THE WORLD ARE IN MOST CASES COMPLETELY CORRUPT!!! MANY OF THEM ARE ACTIVE COLLABORATORS IN THE RAPE OF THIS PLANET. Most "3-Initial Corporations" are fronts for ALIEN IMPERIALISM. Most Major Churches are shells or puppets for their EVIL MASTERS.
Each HUMAN, EARTH-BORN LIFE is PRECIOUS & WE MUST ALL SURVIVE IF WE ARE TO WIN THIS FIGHT FOR POSTERITY. THE FUTURE OF OUR PLANET IS IN YOUR HANDS. WHAT YOU DECIDE RIGHT NOW WILL DETERMINE WHETHER YOUR OFFSPRING WILL HAVE TO BEG & PIMP FOR NAUSEATING NON-HUMAN LIFEFORMS OR BE ABLE TO STAND ERECT AND PROUD FOR THEIR PLANET.

COWARDICE, INDECISION OR APATHY IN THE FACE OF THESE FACTS CAN ONLY EARN YOU THE TITLE OF TRAITOR TO THE HUMAN RACE. I REPEAT, THIS IS WAR. TRAITORS WILL BE DEALT WITH BY US, THE PEOPLE OF PLANET EARTH, APPROPRIATELY, UNDER THE PROVISIONS OF THE EMERGENCY WAR-POWERS ACT. WE HAVE ESTABLISHED A PROVISIONAL HDQTRS AT 590 63RD STREET IN OAKLAND. THIS WILL BE THE COMMAND POST FOR THE ARMIES OF THE EARTH. THE E.P.L.A. ("EARTH PEOPLES' LIBERATION ARMY") IS THE MILITARY ARM OF INTNATL WORLD HDQTRS. THEY ARE ACTIVELY FIGHTING EVEN NOW, DAY BY DAY, FOR THE PRECIOUS SPACE WE TAKE 4 GRANTED. For them to WIN, FOR US to WIN, WE must be UNITED. We must be STRONG. U.S.- US - UNITED AND STRONG!!! We must ALL CONTRIBUTE. We must ALL FIGHT. We must ALL "PAY THE PRICE"...Money $$$ & material is desperately needed. Even this Pamphlet, which You obtained at No Cost, Costs Money $$$ GUNS, KNIVES, CHAINSAWS COST MONEY $$$ WON'T YOU HELP??? MAKE OUT A REPORT of any local Extra-T activity in your area-lites at night or people who don't "act right" - elected officials who "walk funny" - suspicious policemen, etc...We receive THOUSANDS of such Reports daily at INTNATL WORLD HDQTRS & ALL of them are Collated & Correlated to give US the "BIG PICTURE". Each month we issue a completely Spurious newsletter to keep the Public & - "Others" mis-Informed..

Please write ME, the REV. RICHARD P. YURIN a personal letter or Report & enclose a "BATTLE CONTRIBUTION DONATION" & tell ME how, in your own words, we can Fight these S.O.B.s. All letters will be kept CONFIDENTIAL & WILL NOT be sold to New-Age mailing lists. With So Much Extra-Terrestrial Espionage & Infiltration going on unless I receive a Handwritten (NOT TYPED) PERSONAL letter from YOU with a "BATTLE CONTRIBUTION DONATION" (In Cash) I WILL NOT REPLY. PLEASE INCLUDE A S.A.S.E...I MUST ASSURE MySelf THAT I AM COMMUNICATING WITH A NATIVE EARTH-BORN BROTHER OR SISTER & NOT A TRAITOR OR ENEMY ALIEN. MAKE NO MISTAKE. THEY ARE OUR ENEMIES. THEY DO NOT "LOVE" US. OR RATHER, THEY "LOVE" US THE WAY WE "LOVE" SHRIMP...OR BIG MACS..."THEY" DO NOT HAVE OUR BEST INTERESTS AT HEART. IN FACT, MANY OF THEM ARE QUITE LITERALLY HEARTLESS. IT'S TIME TO WAKE UP EARTH MAN & WOMAN!!! IT'S TIME TO FACE FACTS!!! We are the last Generaton to have a
Choice. Freedom & Peace; or Slavery & Eternal Domination Under The Gigantic Boot Of Horrible Creatures From SPACE. YOU MUST DECIDE. YOU MUST FIGHT, & YOU MUST PAY THE PRICE, FOR ALL OF US, FOREVER. IF YOU WUSS OUT TODAY, TOMORROW WILL NEVER END...YOU ARE CALLED UPON TO BE THE EYES & EARS & ARMS OF THE PEOPLE OF EARTH. THE EARTH PEOPLES' LIBERATION ARMY (E.P.L.A.) YOU KNOW WHAT YOU MUST DO. YOU HAVE YOUR ORDERS. SEND YOUR REPORT, WITH PERSONAL LETTER AND WELL-CONCEALED CASH "BATTLE CONTRIBUTION DONATION" (paper only) TODAY TO:


E.P.L.A.
INTNATL WORLD HDQTRS - c/o Reverend Richard P. Yurin
590 63rd Street, Oakland, CA (don't use evil ZipCodes...)
Yet through his writings and some of his pictures you may not see the diversity in him. He was very loving. Many of his friends attest to his generosity. But to see him as a family man. A father, you'd see a side that may not be shown in this blog as of yet. But he was a wonderful and loving father to both his children, Becky and Alex.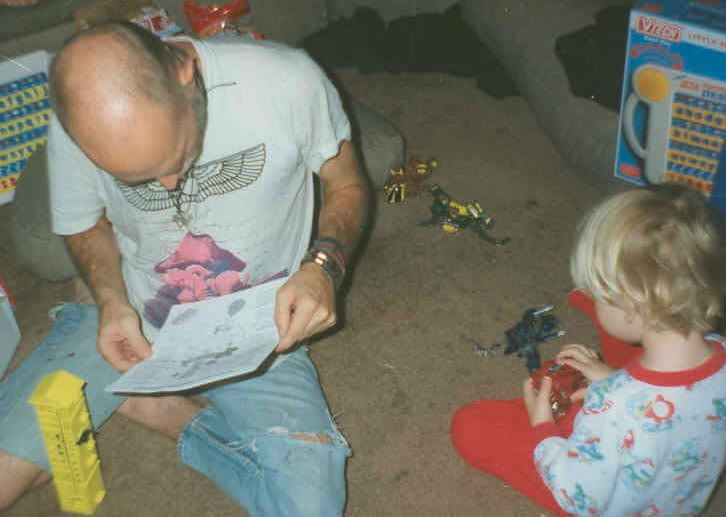 Some he had effects on that went much deeper than one might expect. My oldest daughter Kasi was quite young while Cris was struggling with cancer. She writes of her feelings of her Uncle Chris:
As strange as it may seem to some...
Being at an early age when Chris was part of anyone's life...
I looked forward so much to driving 2 hours to see him
I adored Alex, and his playfulness.
I looked up to Becky, and her.. attitude? her personality.
Her.
I loved aunt Jean, she's an amazing person...
but on the road, for those two hours, all I could think, was about
seeing Uncle Cris.
I was a child when I knew him.
and to many, I am still a child.
but, I grew, so much, for knowing him.
Because of him, my eyes had been opened beyond the "normal"
beyond the "strict accepted"
Chris is someone who had molded my religon.
Chris, made me who I am today in a large part.
I gave myself a tattoo of an Ankh.
I let myself believe that he eternally will be alive.
I see him in movies, at the park, walking around Wausau.
not him.
obviously.
but someone who SOMEHOW reminds me of him.
It's been over 10 years now, that he has been deceased,
and he STILL is my favorite Uncle
I felt like I had a family. a real one. One that would never judge,
and only help me grow into a better, open minded person.
He was, and still is an amazing guy.
When I think about how I would have grown..
what I would have grown into
I don't see it the same, if I hadn't had him in my life
When I think about my family.
I wouldn't see one, without him in it.
and Jean, Becky and Alex.
His passing.. killed me a little inside.
I know, i never would have grown into a closed minded bitch, no
matter what. but I couldn't imagine me growing into who I am..
without him
and every so often, i remember things that bring me to tears
I remember when he was very sick..
and came to my house...
and I ..I couldn't hug him.
He looked like he would break.
and I wish..I wish I would have.
He was not a great example of the perfect citizen in the governments
view.
but I never learned more about being alive, and being who I want...
as I did from him.
I love you Uncle Cris.
and I always will.